We are Neighborhood Parents Network of Chicago
Neighborhood Parents Network started in 1980 as a volunteer-run organization. Today, NPN is managed by a full-time Executive Director and a team of part-time directors and managers, and a group of amazing volunteers.
Amy Johnson
Executive Director
Amy joined NPN in 2006. After finding a long-lasting nanny share through NPN, she began volunteering by planning small social events for parents in her neighborhood. With a background in non-profit program management and event coordinating, she moved into a part-time staff position coordinating volunteers in 2012. Amy's role grew to managing NPN's programming and events and building partnerships with NPN's many supporters. She became Executive Director in 2020. She lives in Irving Park with her husband, sons and dog.
Sitaara Jones
Director of Marketing & Content
A proud mama of three, Sitaara enjoys bringing a diverse perspective to parenting in Chicago to NPN. Sitaara began her journey at NPN as a member and contributor before joining the team as the social media strategist and now she is the Director of Marketing and Content. She brings experience as a former Chicago Public School educator, email marketer, and community director to NPN where she looks forward to the opportunity to continue making meaningful connections, testing out new ideas, and analyzing results.
Jana Kline
Advertising Operations Manager
Jana joined the NPN team in 2017 and is responsible for advertising operations. Her experience runs the gamut from small, privately owned companies to global conglomerates. As such, she brings a strong and varied advertising background to NPN. With two Chicago kids, Jana understands the unique challenges of raising children in an urban environment and the importance of finding the resources needed to do so. She is excited to bring both her professional and personal experience to NPN. Jana lives in Chicago's North Side with her husband, two children and an ill-tempered cat.
Tareema Jean-Baptiste
Programs Manager
Tareema has been an NPN member and contributor since 2011. She is a devoted wife and mother of three. As a proud advocate for her oldest son, who has special needs, she has a passion to share with others, hopefully helping them on their journey. Using her Real Estate, event management and special needs parent advocate skills, Tareema will continue to support and facilitate NPN's programs. Affectionately nicknamed "The Connector" by her friends and family, she is excited to share creative and inclusive ways for all families to connect throughout the city.
Elizabeth Gourio
Events Manager
Elizabeth Gourio joined the NPN team in 2021. She became an NPN member prior to the birth of her oldest child and found the New Moms Group to be very helpful in dealing with the anxiety and isolation of new motherhood. As a transplant from the suburbs of Detroit, Michigan, Elizabeth finds NPN to be a reliable guidepost in navigating the struggles and benefits of raising children in Chicago. Elizabeth has a varied work background in the arts, education, sales, project management and technology. She is responsible for managing the numerous events hosted by NPN. Elizabeth lives with her husband and two daughters in the Andersonville neighborhood of Chicago.
Lauren Viera
Content Manager
Lauren joined NPN in 2015 as managing editor of Parent to Parent while navigating her first year as a mom. With a long career in writing for publication as a journalist, and copywriting for Fortune 500 companies, Lauren loves how personal narratives can broaden perspectives and bring communities closer. As Content Manager, she strives to share compelling stories of what it's like to be a parent in Chicago. She lives in Logan Square with her husband and daughter.
Doloris Schombert
Web Developer
Doloris joined the NPN tech team in 2004. She desires to help families to grow with love. Doloris became a techno-geek when she took her first computer class at DePaul University. When she's not computing, you can find her and her family riding bikes along the lakefront.
Nelia Opperman
Accountant
Nelia's involvement with NPN started in 2005 when she was approached by NPN management regarding tax issues facing the organization. Since then, she continued on being involved with NPN doing various tasks including data entry, event postings, bookkeeping, budgeting and planning, research, audit, tax and financial reporting. Nelia's work experience includes international tax management positions at Motorola, Aon, and Baxter Labs. She has a BS degree in Education, an MBA, CPA, and attended Roosevelt University and DePaul University.
Board of Directors
Sharhonda Okonkwo
President
An energetic mom of two, Sharhonda joined NPN in 2015. An attorney in financial services and a volunteer Girl Scout troop leader, she brings legal expertise and business strategy, as well as fun, to NPN. She also writes for NPN, sharing her parenting experience. As president of the board, Sharhonda ensures that the work of the board and staff align with each other and with NPN's mission and goals. Sharhonda and her family live in Bronzeville.
Tamara Roust
Vice President
Tamara joined NPN in 2010, participating in NPN's support groups, camp fairs, school search events, and social groups. A chief data officer and a volunteer for several local organizations, Tamara shares with NPN her expertise in cybersecurity, business continuity, and information systems, as well as a passion for civic advocacy. As vice president of the board, Tamara leads NPN's strategic planning. She lives in the Gold Coast with her husband and three children.
Julie Busby
Secretary
Julie joined NPN in 2014 as a first-time mom looking for parenting and childcare advice and recommendations. Later, after a great experience using NPN's school search resources for their daughter, Julie moved into a board position in 2018. As the founder of Busby Group, a top Chicagoland real estate team, Julie brings marketing, communications and sales expertise along with first-hand experience of what it means to be an urban family. Julie is passionate about helping and providing resources for all Chicago families.
Colleen Callahan
Treasurer
Colleen has been a member of NPN since the birth of her son in 2018. A controller, Colleen has a finance and accounting background and brings to NPN her years of experience building budgets, comparing budgets to actuals, and using metrics to improve business performance. As treasurer of the board, Colleen advises NPN on all matters of accounting and finance. Colleen and her husband are invested in raising their son in Chicago and building their community in the city.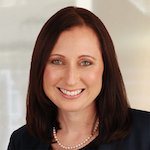 Jennifer Burke
Jenny joined NPN and the board in 2021. As a CPA and tax partner who specializes in helping not-for-profit organizations, Jenny brings business and financial expertise to NPN, as well as advice on navigating the financial complexities of the pandemic. As a new mom making the most of her NPN membership, she brings a fresh perspective, new ideas, and enthusiasm to the team. Jenny, her husband, and son live in the Loop.
Anita Chandra-Puri
A primary care pediatrician, volunteer for local non-profit organizations, and mom of four, Anita joined the NPN board in 2018 to give back to the community that her family calls home. She writes articles for NPN and shares her expertise during NPN's Ask the Expert series on the discussion forum. Anita lives in Lincoln Park with her family.
Danielle Gould
Danielle joined the NPN board in 2021. An attorney and mom of two, Danielle attended NPN's Preschool and Elementary School Fair prior to her oldest daughter starting kindergarten and joined the NPN board to get more involved in community matters. She brings her rich volunteer experience, organizational skills, and legal guidance to NPN. Danielle and her family live in Lakeview.